---
WIZ5xxSR-RP Firmware Update Overview​
Memory Map​
 Top Flash Memory Address 

/

--

--

--

--

--

--

--

--

--

--

--

--

--

--

--

--

--

--

--

--

--

-

\  

0x10200000




                          

|

                                           

|




                          

|

             

Parameters

 

(

64

KB

)

             

|




                          

|

--

--

--

--

--

--

--

--

--

--

--

--

--

--

--

--

--

--

--

--

--

-

|

  

0x101F0000




                          

|

                                           

|




                          

|

              

Reserved

 

(

448

KB

)

             

|




                          

|

                                           

|




                          

|

--

--

--

--

--

--

--

--

--

--

--

--

--

--

--

--

--

--

--

--

--

-

|

  

0x10180000




                          

|

                                           

|




                          

|

                                           

|




                          

|

        Firmware Binary 

Bank

 

(

512

KB

)

       

|




                          

|

                                           

|




                          

|

                                           

|




                          

|

--

--

--

--

--

--

--

--

--

--

--

--

--

--

--

--

--

--

--

--

--

-

|

  

0x10100000




                          

|

                                           

|




                          

|

                                           

|




                          

|

          Application 

Bank

 

(

512

KB

)

         

|




                          

|

                                           

|




                          

|

                                           

|




                          

|

--

--

--

--

--

--

--

--

--

--

--

--

--

--

--

--

--

--

--

--

--

-

|

  

0x10080000




                          

|

                                           

|




      Page 

1

 

(

256

KB

)

      

|

                                           

|




                          

|

             

Bootloader

 

(

512

KB

)

            

|




      Page 

0

 

(

256

KB

)

      

|

                                           

|




                          

|

                                           

|




                          \

--

--

--

--

--

--

--

--

--

--

--

--

--

--

--

--

--

--

--

--

--

-

/

  

0x100000000



Firmware Update Sequence​
Figure: Firmware Update Sequence
---
How to Upload or Update the Firmware of WIZ5xxSR-RP​
The WIZ5xxSR-RP provides one method of uploading or updating firmware.
That's the way over ethernet using the Configuration Tool.
---
Using the Configuration Tool​
Required Hardware and Software​
Hardware​
Software​
How to Upload or Update the Firmware​
Step 1: Setup Environment to Use WIZ5xxSR-RP​
The process of setup environment to use the WIZ5xxSR-RP each product is available at the 'Getting Started' document below.
Step 2: Upload Firmware​
Click the Firmware Upload button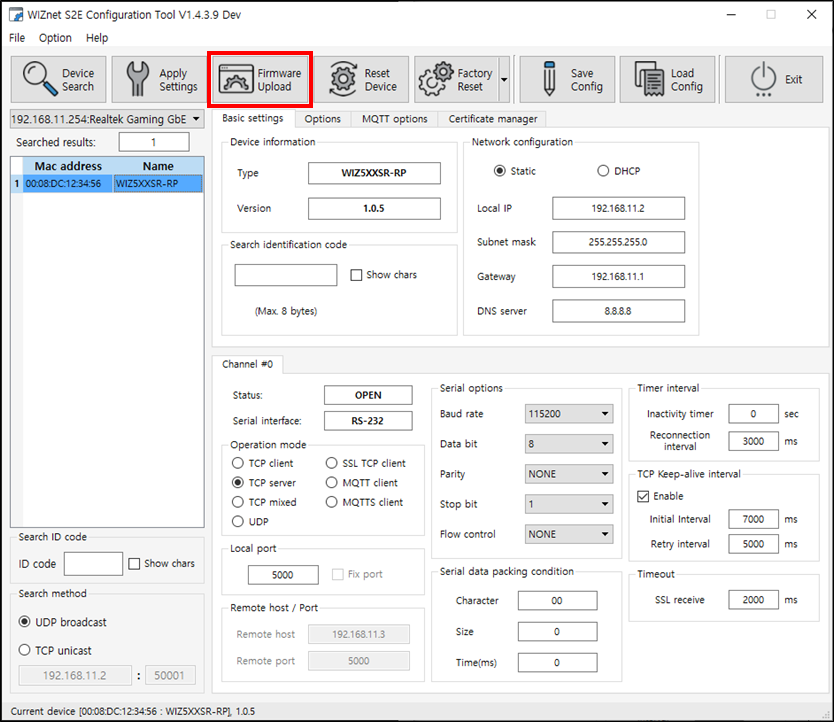 Figure: Click Firmware Upload button
Select the uploaded firmware
When selecting firmware, you must select .bin(*_linker.bin).
Firmware in a file format other than .bin cannot be uploaded or updated properly.
Figure: Select uploaded firmware
Uploading the firmware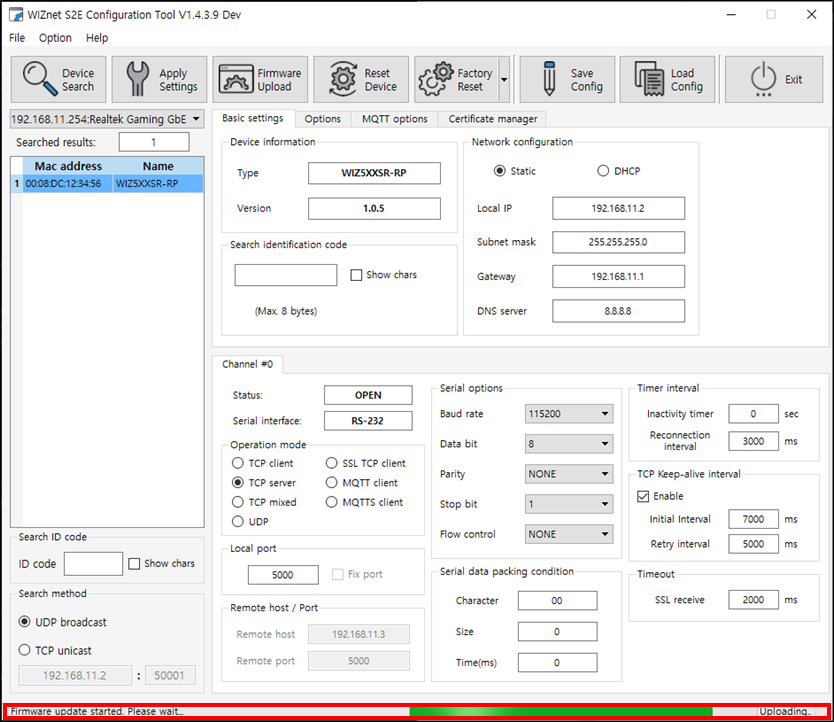 Figure: Uploading firmware
Step 3: Done​
Firmware upload or update completed!
WIZ5xxSR-RP is searched after about 5 seconds in the Configuration Tool after firmware upload or update completed.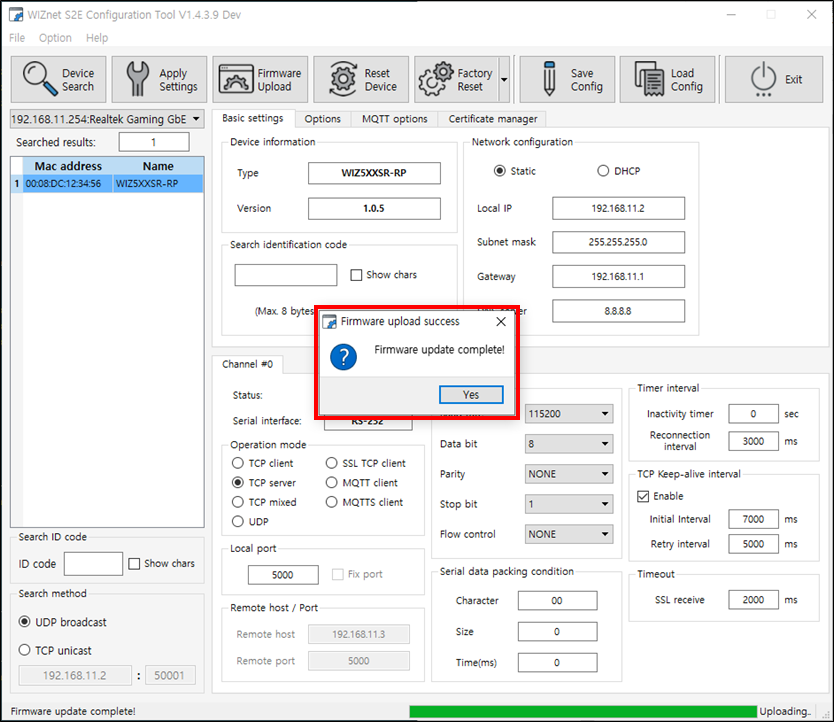 Figure: Firmware upload or update complete
---