Serial to Ethernet Tool guide
Configuration Tool​
Configuration Tool selection guide for S2E(Serial to ethernet) devices.
info
The configuration tool used is different depending on the S2E product family, so need to use a tool suitable for the product.
---
WIZnet-S2E-Tool-GUI (wizconfig)​
Support Devices
Download the latest version (GitHub Repository)
https://github.com/Wiznet/WIZnet-S2E-Tool-GUI/releases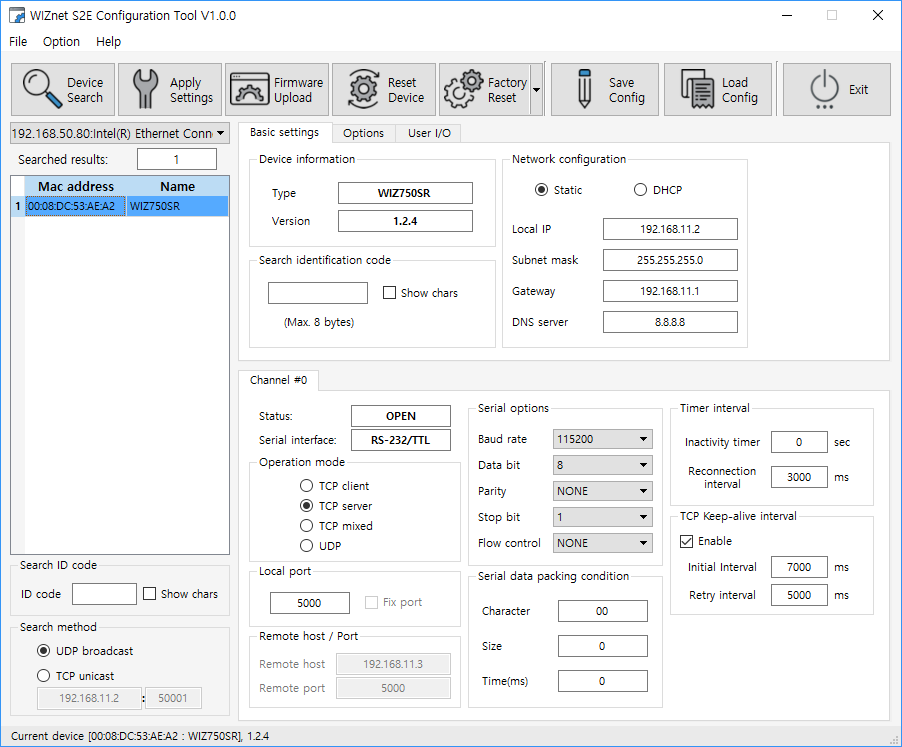 ---
WIZ550 Series​
Configuration Tool User guide​
https://github.com/Wiznet/WIZ550S2E
Source code​
https://github.com/Wiznet/WIZnet_Configuration_Tool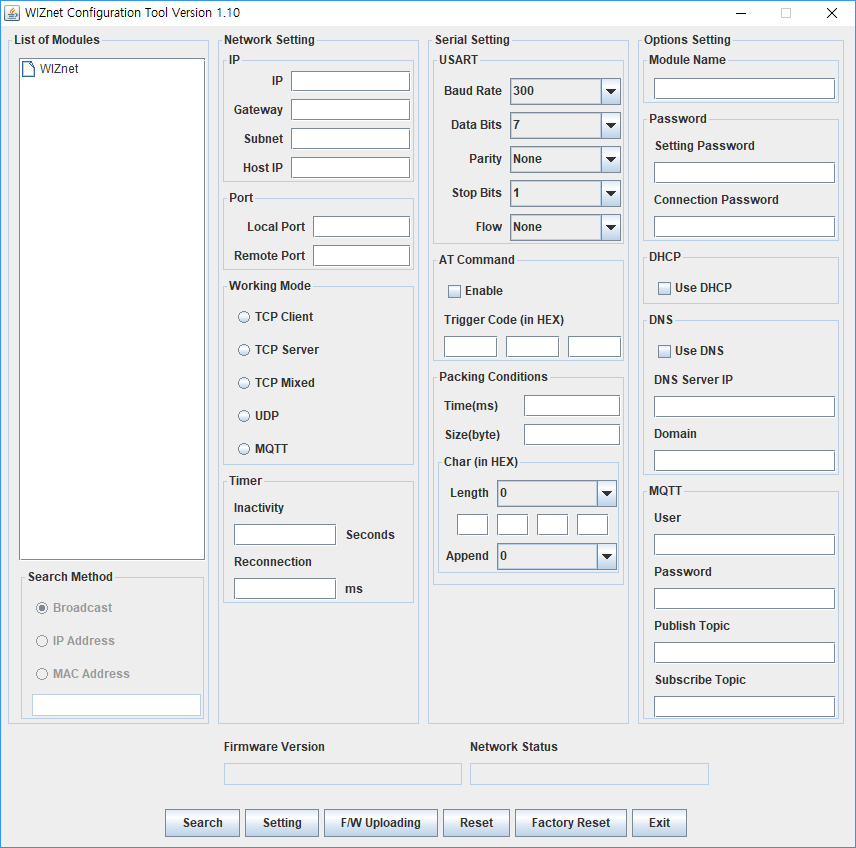 WIZ550SR/WIZ550S2E Configuration Tool
WIZ550 Series Configuration Tool Release download
Please refer to below compatibility table and use appropriate version.
| F/W Version | Configuration Tool Version |
| --- | --- |
| 1.0.3 | 1.03 |
| 1.3.0 | 1.33 |
| 1.4.1 | 1.33 |
---
WIZ107/108SR​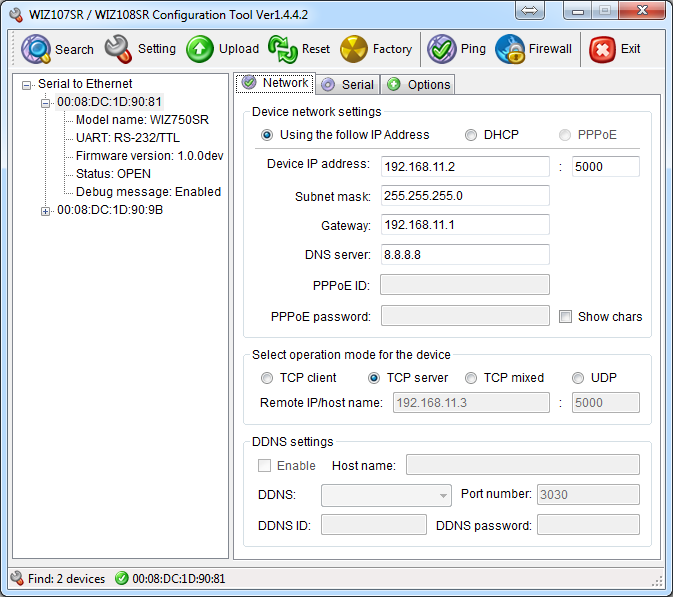 WIZ107/108SR & WIZ750SR Configuration Tool
💾 Download WIZ107/108SR & WIZ750SR Configuration Tool
---
WIZ100/105/110SR Series​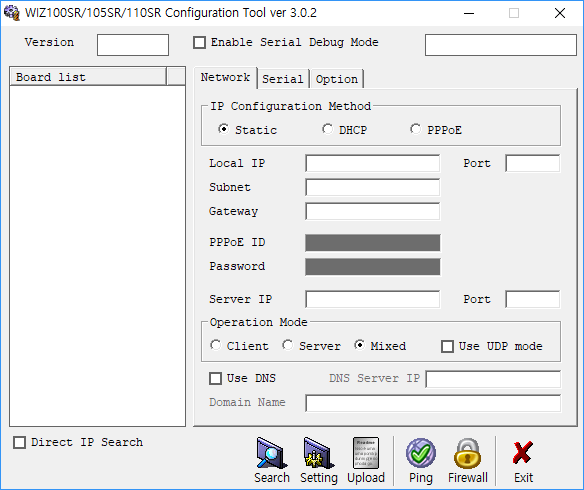 WIZ100SR/ WIZ105SR/ WIZ110SR Configuration Tool v3.0.2
Download WIZ100SR/ WIZ105SR/ WIZ110SR Configuration Tool
---
WIZ120/125SR​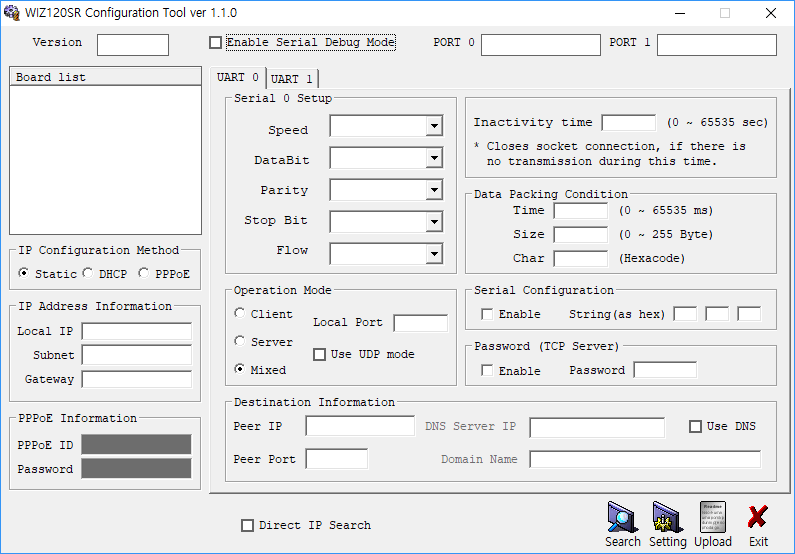 WIZ120/125SR Configuration Tool v1.1.0
💾 Download WIZ120/125SR Configuration Tool
---
WIZ140/145SR​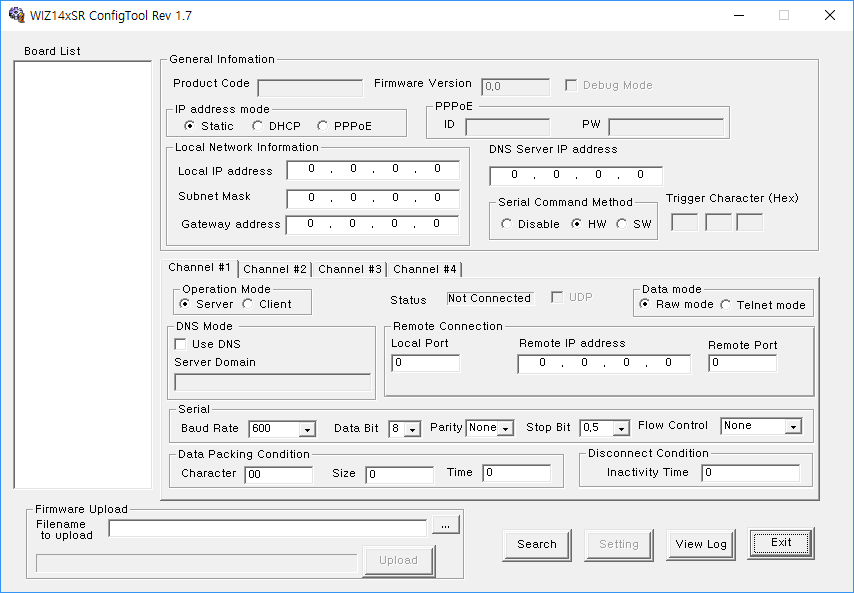 💾 Download WIZ140/145SR Configuration Tool
---
W7500(P) ISP Tool​
Go to ISP tool manual & Program download
---
WIZ Mac Tool​
WIZMacTool is a tool that helps you re-enter the MAC address if it is deleted during the process of upgrading the product's firmware.
The WIZMacTool is available on the following devices:
For detailed instructions, see the link below.
💾 Download the WizMACTool Program
---
WIZ VSP​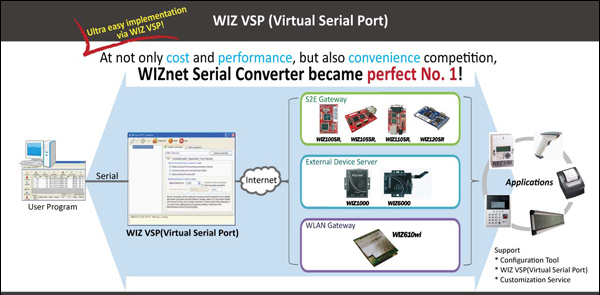 WIZ VSP (WIZnet Virtual Serial COM port) is the software for those users who want to use the existing application programs based on serial communication.
WIZnet Virtual Serial Port: It can be used to change the device that is connected to the PC through the existing serial interface to control by the remote Ethernet network.
If you agree with the End User License Agreement for WIZVSP, you will be able to download the program and get a registration key. When registering the product with license agreement, the MAC address of the product in use and the Email address of the contact person are required.
Requirement​
The latest version supports up to Windows 10, and we recommend using Windows 7 or higher.
info
Environments under Windows 7 support only the old version, if necessary, contact the technical support team.
The current WIZVSP driver does not officially support the Windows 11 environment, so operation cannot be guaranteed and technical support is difficult.

To use in the Windows 11 environment, you must manually enable the port using the 'Scan for hardware changes' menu in Device Manager.
Go to WIZVSP end user license agreement page:
http://wizvsp.wiznet.io
---