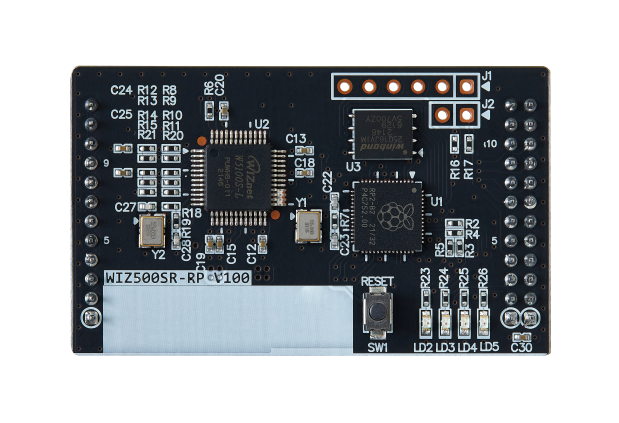 WIZ500SR-RP is a compact sized serial to Ethernet module using the RP2040 MCU with W5100S Ethernet Chip. WIZ500SR-RP is a protocol converter that transmits data sent by serial equipment as TCP/IP data, and converts the TCP/IP data received through the network back into serial data to the serial equipment.
In addition, WIZ500SR-RP contains serial debug port(J1).
WIZ500SR-RP is the best fit solution to control user's serial device via Ethernet network.
---
Features​
Serial to Ethernet Module based on RP2040 MCU (TTL level)
W5100S included
10/100Mbps Ethernet & Up to 230kbps serial speed
2mm pitch 1x12 Pin-header(3ea) mounted module
Status pins: PHY link status / TCP connection status
Serial signals(UART or RS-232C)

WIZ500SR-RP module(UART): TXD, RXD, RTS, CTS
WIZ5xxSR-RP-EVB(RS-232C): TXD, RXD, RTS, CTS
Optional DTR/DSR signals supported

WIZ500SR-RP has UART x 2, SWD x 1, Ethernet x 1

UART0, SWD for Debug and UART1, Ethernet for Data transceive

Separate Data UART and Debug UART port
Configuration is possible via serial AT commands or via Configuration tool
Support WIZ VSP (Virtual Serial Port) program
---
Product Contents​
WIZ500SR-RP Module Series​
| Ordering Information | Item | Q'ty | Remarks |
| --- | --- | --- | --- |
| WIZ500SR-RP | WIZ500SR-RP module(TTL) | 1 | - |
WIZ5xxSR-RP Evaluation Board Series​
| Ordering Information | Category | Item | Q'ty | Remarks |
| --- | --- | --- | --- | --- |
| WIZ5xxSR-RP-EVB | Device | WIZ5xxSR-RP EVB | 1 | - |
| ::: | Cable | TBD | TBD | TBD |