Overview​
WizFi360 is a low cost and low-power consumption industrial-grade WiFi module. It is compatible with IEEE802.11 b/g/n standard and supports SoftAP, Station and SoftAP+Station modes. The serial port baud rate can be up to 2Mbps, which can meet the requirement of various applications.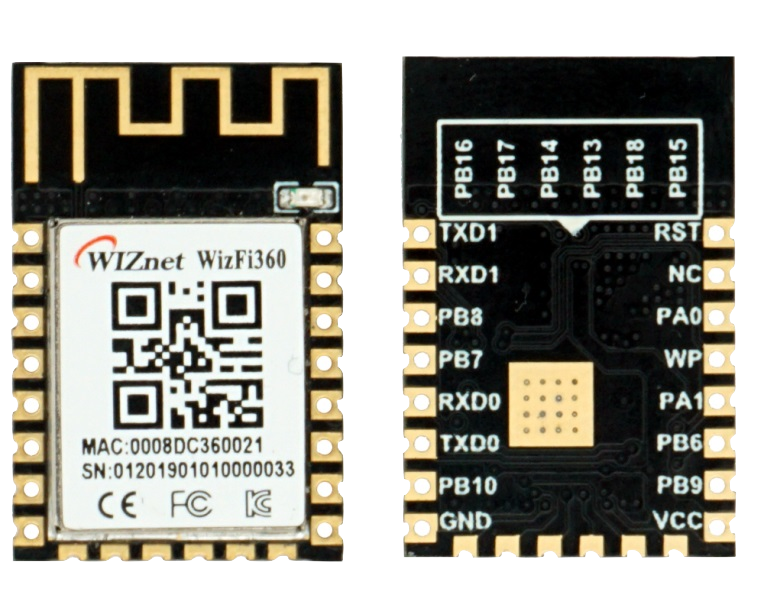 Figure: WizFi360-PA(PCB Antena)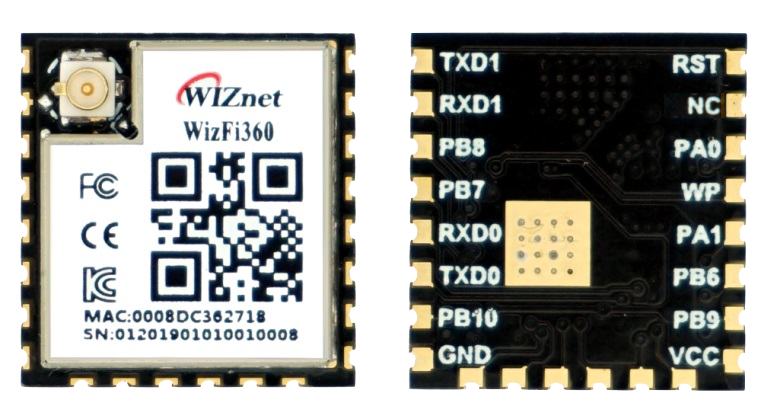 Figure: WizFi360-CON(U.fl Connector Antena)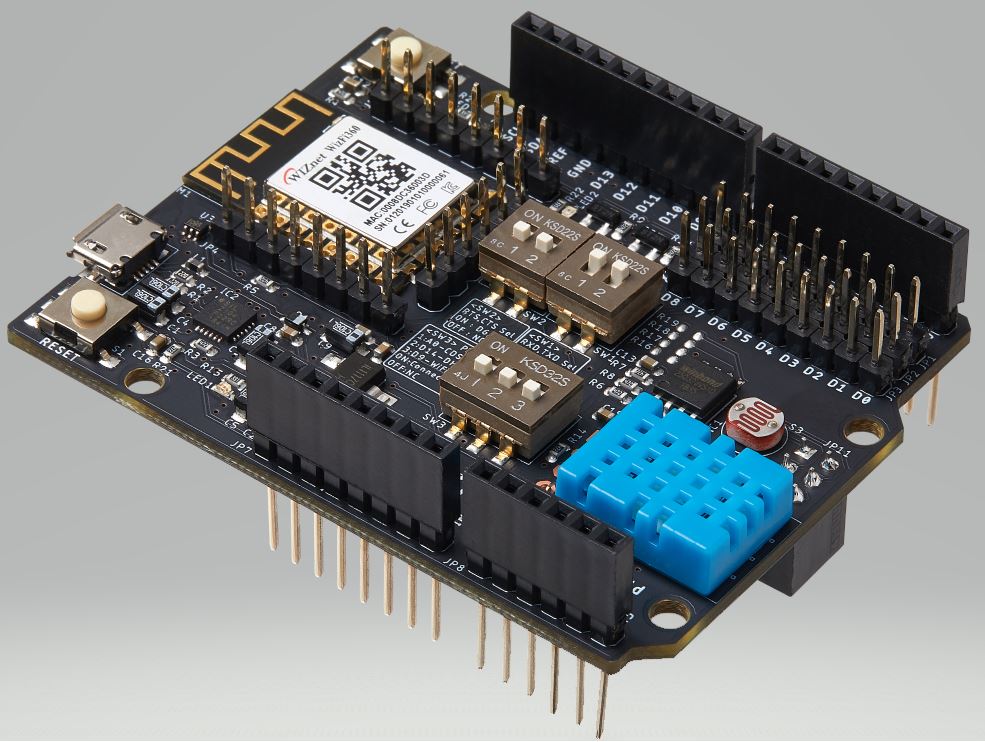 Figure: WizFi360-EVB
---
Features​
WiFi 2.4G, 802.11 b/g/n
Supports Station / SoftAP / SoftAP+Station operation modes
Supports "Data pass-through" and "AT command data transfer" mode
Supports serial AT command configuration
Supports TCP Server / TCP Client / UDP operating mode
Supports configuration of operating channel 1 ~ 13
Supports auto 20MHz / 40MHz bandwidth
Supports WPA_PSK / WPA2_PSK encryption
Serial port baud rate up from 600bps to 2Mbps with 16 common values
Supports up to 5 TCP / UDP links
Obtaining IP address automatically from the DHCP server (Station mode)
DHCP service for Wireless LAN clients (AP mode)
Supports DNS for communication with servers by domain name
Supports "Keep-Alive" to monitor TCP connection
Supports "Ping" for monitoring network status
Built-in SNTP client for receiving the network time
Supports built-in unique MAC address and user configurable
Supports firmware upgrade by UART Download / OTA (via WLAN)
Industrial grade (operating temperature range: -40 ° C ~ 85 ° C)
KC, CE, FCC, TELEC certification 
---
Details​
🌎Ref schematic: Support the schematic of WizFi360-EVB to Gerber, Partlist, Schematic format.
For more information visit the 🌎WizFi360 Github.
---
Q & A​
🌎WizFi360 Forum : WIZnet Forum for Technical support and Project sharing
---